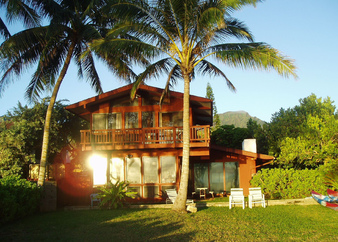 This beautiful Hawaiian beachfront vacation rental (with room for up to 9 people) sits on lovely 6-mile-long white-sand Waimanalo Beach. This is your own piece of paradise, whether you're looking for honeymoon, adventure, or family holiday. The beach directly in front of the house is little-used, and the water is protected by a reef about a mile off-shore, making it ideal for swimming and boogie boarding. And the small town of Waimanalo is just far enough from the crowds of Waikiki and Honolulu to provide peace, privacy, quiet and tranquility.

Stepping out onto the master bedroom balcony, gazing into the ocean, the beach stretches for miles in each direction. The loudest sound is the gentle rolling of small waves on the sand. Ironwood and Palm trees dot the coastline. There are no buildings taller than two stories. On a clear day the islands of Molokai and Maui can be seen in the distance. The Ko'olau mountain pali (cliffs) tower more than 1,000 feet behind you.

---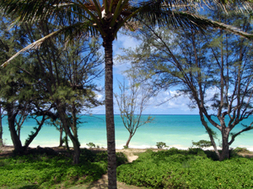 And every morning begins with a spectacular sunrise over the ocean.
Beachfront Rental Rates(4 bedrooms including studio cottage, sleeps 9):
May 16 to Sept 15, 2016, $900 per night
Sept 16 to Dec 14, 2016: $800 per night
Nov. 17 to 26, 2016: $900 per night
Dec 15, 2017 to Jan 4, 2018: $1200 per night
Jan 5 to May 15, 2018: $800 per night
Taxes 13.962% and cleaning fee $375, Credit Cards Accepted via PayPal
"ask about last minute booking specials"
Rates do not include tax and cleaning fee.
For reservations or additional information:
E-mail:
sherrybroder@sherrybroder.com
Phone: (808) 531-1411 (Ask for Waimanalo Beach House)
Fax: (808) 531-8411
---